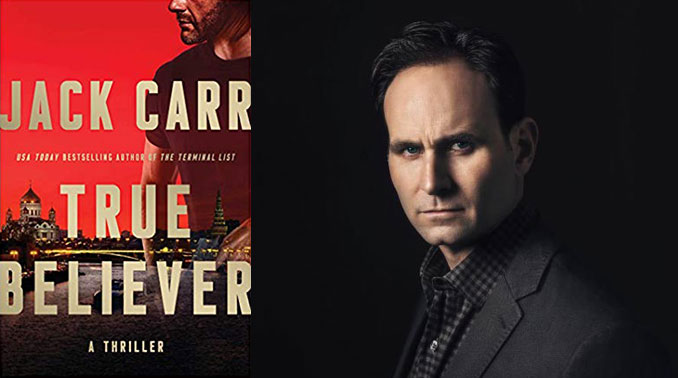 Visiting Author July 2: Jack Carr
Join us Tuesday, July 2, 2019 at 5:30 p.m., author Jack Carr will speak about his new book, "True Believer" which comes out July 30th.
SOMEWHERE A TRUE BELIEVER IS TRAINING TO KILL YOU. HE DOESN'T CARE HOW HARD IT IS. HE ONLY KNOWS THAT HE WINS OR HE DIES. HE ONLY KNOWS THE CAUSE.
When a bomb goes off during a holiday fair in London, the body count is horrific and the nation's market goes into a tailspin. This, it turns out, is just the beginning of a series of coordinated and murderous attacks against the whole of the Western world. As the scope of the mayhem grows ever wider, pulling in country after country, the United States goes on the offensive. Who is pulling the strings? What is their motive? And most important of all, how can the attacks be stopped before bloodshed and economic freefall bring America and her allies to their knees?
A high-intensity roller-coaster ride, True Believer explodes with action and authenticity that cements Jack Carr as the new leader in political thrillers.
ABOUT THE AUTHOR
Jack Carr led special operations teams as a Team Leader, Platoon Commander, Troop Commander and Task Unit Commander. Over his 20 years in Naval Special Warfare he transitioned from an enlisted SEAL sniper, to a junior officer leading assault and sniper teams in Iraq and Afghanistan, to a platoon commander practicing counterinsurgency in the southern Philippines, to commanding a Special Operations Task Unit in the most Iranian influenced section of southern Iraq throughout the tumultuous drawdown of U.S. Forces.
Learn more at www.officialjackcarr.com