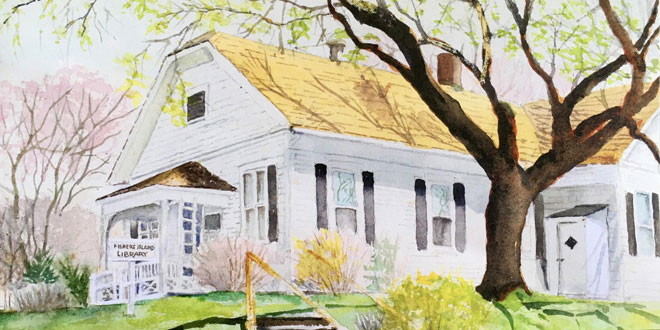 The FI Library's 2021 Summer Schedule and Guidelines
(Updated May 11, 2021)
Starting June 14th, the Library will be open for our traditional Summer schedule:
Monday, Tuesday, Thursday & Friday:
9:00am-12:00 noon; 1:30pm-5:00pm
Wednesday & Saturday:
9:00am–12:00noon
The FI Library will continue to monitor and comply with federal, state and local guidelines for the opening of indoor spaces. As a result, we ask our patrons to read and adhere to the following guidelines. Please call our Librarian, Ann Banks, at (631) 788-7362, if you have any questions.
We ask that adults not enter the Library unless they have been vaccinated, or if not, have had a negative Covid test within 72 hours of returning to the Island. If you have Covid symptoms, please do not visit the Library.
All patrons must wear masks and maintain social distancing in the Library.
Please enter the Library through the side door via the ramp. Upon entry, please sign in and sanitize your hands. Please exit the Library through the front door at the Circulation Desk.
Ann Banks will monitor Library capacity and may ask patrons to wait outside if the Library is overcrowded.
Patrons may call Ann to reserve a time to use one of the Library's computers.
The Library will continue to offer curbside pick-up of Library materials. Give Ann a call and she will leave your materials on the front porch.
Please do not bring food or drink into the Library.
Our Madden Garden provides internet access, abundant seating on the walls and at shaded tables and chairs as an alternative to the Library's indoor spaces for work, reading, meeting or relaxing.
All Library programs this Summer will be held in the Madden Garden, weather permitting.
FURTHER INFORMATION ON CHILDREN IN THE LIBRARY
All children under the age of 12 must be accompanied by a parent or other adult.
Children over the age of 2, must wear a mask inside the Library.
We ask that parents limit their children's library visit to one hour.