Come & Play Kindness BINGO!
Stop by the Library to pick up a Kindness BINGO board (or print one here).
Return a completed board (or three) and be entered to win a prize from Topper's or Island Outfitters! We'll be drawing names twice a month in July and August.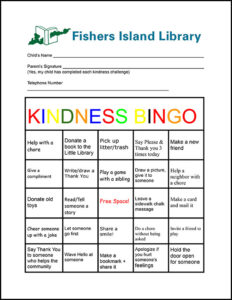 The children just need to perform the acts of kindness and have an adult check off the box and sign the completed card before returning it to the Library. Each completed line on the board will count as one entry.
We did our initial random drawing for first and second place this weekend. Liam won $10 to spend at Island Outfitters and Maggie won $5 at Topper's. A big thank you to Heather and Janio for contributing the prizes.
The second drawing will be on August 1st so get your completed boards in by the end of July.
Download a BINGO Board to print at home: