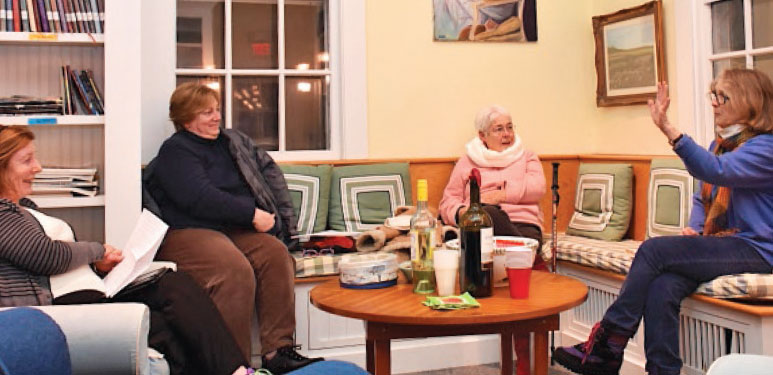 The Fishers Island Library Book Group usually meets the second Wednesday of each month. Everyone is welcome.
NEXT BOOK GROUP: Wednesday, July 13th @ 5:30 PM Housekeeping by Marilynne Robinson
After many years, Louisa Evans is stepping down and Abby McCall is stepping up. We hope, of course, that Louisa will continue to join us since she is so well-read and informative about books!
As in the past, feel free to bring your own beverage and, if you feel like it, a hors d'oeuvres to share with the group. We don't want anyone to feel that they have to show up bearing food but for those who enjoy cooking we'd love it if you bring something to nibble on!
Contact Abby McCall with Book Group suggestions abimccall@gmail.com
and Librarian Ann Banks with questions librarian@filibrary.org.
Books that have been suggested include: The Great Alone by Kristen Hannah, Winter in Paradise (and sequels) by Elin Hildebrand, Magic Hour by Kristen Hannah, Moby Dick by Herman Melville, All the Single Ladies by Dorothea Benton Frank, Grapes of Wrath by John Steinbeck, A Tree Grows in Brooklyn by Betty Smith, The Splendid and the Vile by Erik Larson, The Nineteenth Wife by David Ebershoff, Middlemarch by George Eliot and The Gun Monkey by Victor Gischler. And, other possibilities suggested were Magic Hour by Kristin Hannah, Celine by Peter Heller, The Secret Life of Lobsters by Trevor Corson, Last Day by Luanne Rice, and The Splendid and the Vile by Erik Larson. Another suggestion was either of Isabel Wilkerson's books, The Warmth of Other Suns or Caste.