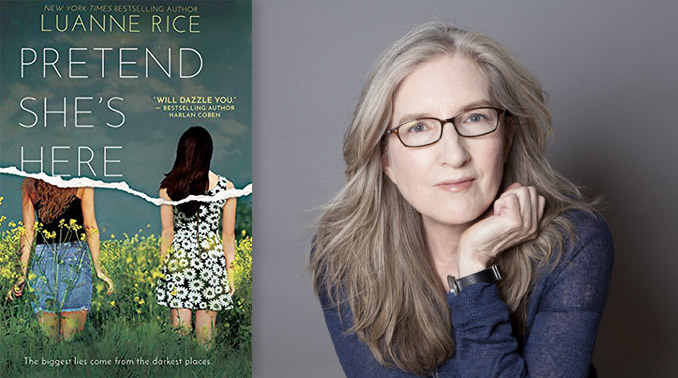 Visiting Author July 9: Luanne Rice
Join us in welcoming New York Times best-selling author Luanne Rice back to Fishers Island! Luanne will tell us about her new novel, Pretend She's Here, "a story of suspense, secrets, and the strength that love gives us to survive even the most shocking of circumstances."
Tuesday, July 9, 2019 at 5:30 pm
Emily Lonergan's best friend died last year.
And Emily hasn't stopped grieving. Lizzie Porter was lively, loud, and fun – Emily's better half. Emily can't accept that she's gone. When Lizzie's parents and her sister come back to town to visit, Emily's heartened to see them. The Porters understand her pain. They miss Lizzie desperately, too. Desperately enough to do something crazy. Something unthinkable. Suddenly, Emily's life is hurtling toward a very dark place – and she's not sure she'll ever be able to return to what she once knew was real.
ABOUT THE AUTHOR
Luanne Rice is the New York Times bestselling author of thirty-four novels that have been translated into twenty-four languages. Her new novel Pretend She's Here will be out from Scholastic February 26, 2019. The Beautiful Lost will be out in paperback January 29, 2019. The Secret Language of Sisters, was her first YA novel. Rice's books often center on love, family, nature and the sea. In 2002, Connecticut College awarded Rice an honorary degree. Her papers are located in the college's Special Collections Library. She has also received an honorary doctorate of humane letters from St. Joseph College in West Hartford, Conn. In June 2014, she received the 2014 Connecticut Governor's Arts Award in the Literary Arts category for excellence and lifetime achievement as a literary artist.
She is a creative affiliate of The Safina Center, an organization that brings together scientists, artists, and writers to inspire a deeper connection with nature, especially the sea.
Several of Rice's novels have been adapted for television, including Crazy in Love for TNT, Blue Moon for CBS, Follow the Stars Home and Silver Bells for the Hallmark Hall of Fame, and Beach Girls for a mini-series on Lifetime. Rice contributed a monologue to Motherhood Out Loud, a play that premiered at Hartford Stage Company and was performed Off-Broadway and at the Geffen Playhouse in Los Angeles.
Rice is an avid environmentalist and advocate for families affected by domestic violence. She lives on the Connecticut Shoreline.
Learn more at www.luannerice.net
Photo credit: Kristina Loggia