Book Group Aug 12: The Honey Bus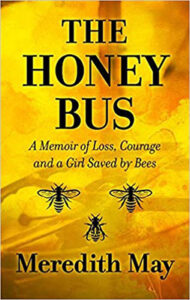 by Meredith May
We will have this virtual Book Group via Zoom at 7:00 pm. Join the discussion as a longtime, new or one-time member, and please reach out to us at finylibrary@gmail.com for log in instructions. All are welcome.
A Memoir of Loss, Courage and a Girl Saved by Bees
Meredith May recalls the first time a honeybee crawled on her arm. She was five years old, her parents had recently split and suddenly she found herself in the care of her grandfather, an eccentric beekeeper who made honey in a rusty old military bus in the yard. That first close encounter was at once terrifying and exhilarating for May, and in that moment she discovered that everything she needed to know about life and family was right before her eyes, in the secret world of bees. May turned to her grandfather and the art of beekeeping as an escape from her troubled reality. The bees became a guiding force in May's life, teaching her about family and community, loyalty and survival, and it was during this pivotal time in May's childhood that she opened her eyes to the magic and wisdom of nature and learned to take care of herself. Part family story, part beekeeping odyssey, The Honey Bus is a rich and lyrical memoir of a girl who journeyed into the hive ― and found herself.