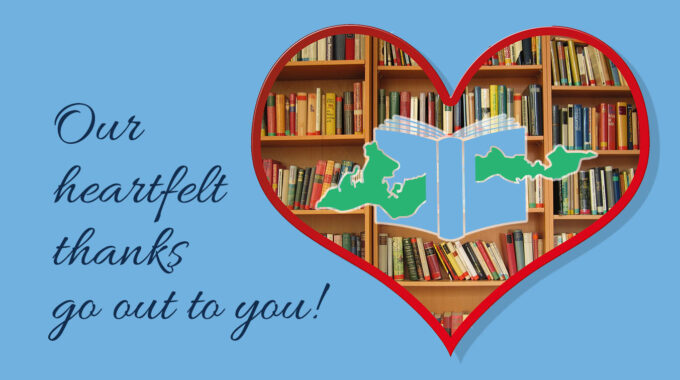 We're giving thanks this November!
HAPPY THANKSGIVING!
Our heartfelt thanks go out to you, our community and supporters, this Thanksgiving holiday!
THANKS TO YOU, we've invested this year in helping to preserve our Library building, hopefully for another 100 years. Thanks to one extraordinarily generous gift, we've had our building painted, performed needed exterior repairs, replaced our ancient storm windows and preserved and sealed the crawl space beneath our main room. Our Library will be warmer in the winter and cooler in the summer, encouraging you to come in, sit, stay, read, write, work, or think.
THANKS TO YOU, we've been able to purchase, install and train ourselves on a new catalog and circulation system. Now, with your Fishers Island Library card and the Libby app, you can enter the complete universe of online materials available to everyone else in Suffolk County. It is now only a slight exaggeration, as the author, Rita Mae Brown, has said, "When I got my library card, that was when my life began."
THANKS TO YOU, we continue to provide a wide variety of programs for all ages, all year long. This summer, we've had a unique dialog between Billie Tsien and Peter Matthiessen Wheelwright; we've had you, your children and your grandchildren singing, dancing and making music with Crocodile River Music; and we've been captivated by fascinating storytellers, in very different genres, Jack Carr, Arthur Houghton and Len Cabral; and by Ellen Warner and E.B. Bartels, who both grew up in our Library and are poster children of how our Library helps inspire a reader and writer.
THANKS TO YOU, we've also been able to continue our collaboration with the Fishers Island School. Principal Christian Arsenault and his faculty have identified a program for improving reading and reading instruction in the primary grades and the Library will provide sets of readers for both the classroom and Library to get this program started.
We try, and are able with your help, to be so much more than a box of books. Most importantly, we are a public space, inviting everyone and charging nothing, for the warm welcome you will find.
HAPPY THANKSGIVING FROM EVERYONE AT THE LIBRARY!
FOLLOW US ON INSTAGRAM
The Library's latest news, events and photos can also be found on Instagram at @fishersislandlibrary.
Winter Hours at the Library
Monday 1:00pm-7:00pm
Tuesday 4:30pm-6:30pm
Wednesday 1:00pm-7:00pm
Thursday 4:30pm-6:30pm
Friday 1:00pm-5:00pm
Saturday 9am-12pm
Sunday Closed