SEPTEMBER BOOK CLUB: The Daughters of Yalta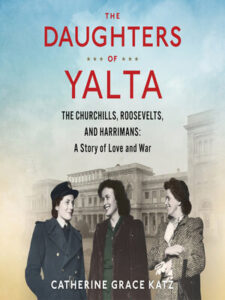 by Catherine Grace Katz
Date: Wednesday, September 27
Time: 5:30pm
Location: FI Library
We've selected to read a book recommended by Allison Sargent titled The Daughters of Yalta, The Churchills, Roosevelts and Harrimans: A Story of Love and War.
Goodreads: "The untold story of the three intelligent and glamorous young women who accompanied their famous fathers to the Yalta Conference in February 1945, and of the conference's fateful reverberations in the waning days of World War II.
Tensions during the Yalta Conference in February 1945 threatened to tear apart the wartime alliance among Franklin Roosevelt, Winston Churchill, and Joseph Stalin just as victory was close at hand. Catherine Grace Katz uncovers the dramatic story of the three young women who were chosen by their fathers to travel with them to Yalta, each bound by fierce family loyalty, political savvy, and intertwined romances that powerfully colored these crucial days.
Sarah Churchill, Anna Roosevelt and Kathleen Harriman (from left) at Livadia Palace, the site of the Yalta Conference
Kathleen Harriman was a champion skier, war correspondent, and daughter of U.S. Ambassador to the Soviet Union Averell Harriman. Sarah Churchill, an actress-turned-RAF officer, was devoted to her brilliant father, who depended on her astute political mind. Roosevelt's only daughter, Anna, chosen instead of her mother Eleanor to accompany the president to Yalta, arrived there as keeper of her father's most damaging secrets. Situated in the political maelstrom that marked the transition to a post- war world, The Daughters of Yalta is a remarkable story of fathers and daughters whose relationships were tested and strengthened by the history they witnessed and the future they crafted together."
FDR LIBRARY AUTHOR TALK: Catherine Grace Katz and FDR Library Director Paul Sparrow discuss the influential roles played by Anna Roosevelt Boettiger, Sarah Churchill, and Kathleen Harriman, the daughters of FDR, Winston Churchill, and Averell Harriman, at the most important conference of World War II. May 12, 2021
Please invite friends who might also be interested. The more readers the better and so many people are unable to join on any given night that I don't think we can have too many people. There are lots of book lovers on the island and it's really nice to bring the group together. Please feel free to forward this to anyone else you can think of. All are welcome.
We generally select the book for the following month at the preceding meeting. Feel free to BYOBeverage and a snack to share if you like.
Other recommendations by FI Library Book Club members:
The Personal Librarian by Marie Benedict & Victoria Christopher Murray
The Art of Racing in the Rain by Garth Stein
Mrs. Queen Takes a Train Ride by William Kuhn
The Shell Seekers by Rosamond Pilcher
On the Savage Side by Tiffany McDaniel
Verify by Colleen Hoover
Looking for Jane by Heather Marshall
Remarkably Bright Creatures by Shelby Van Pelt