Library initiative connects island youth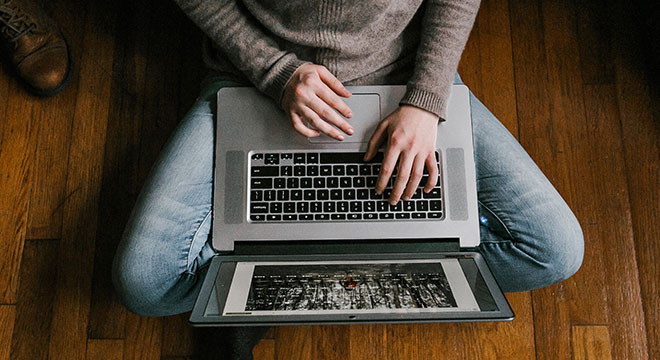 Building community through communication
By Christian Arsenault
Superintendent at Fishers Island School
This past year has taught us about the power of coming together with a shared vision towards a common goal.  Our beloved island has come together in so many ways to keep each other safe and help us feel connected. The partnership between the Fishers Island Library and Fishers Island School is just one example of how we have continued to come together, especially in support of the youngest members of our community.
Earlier in the year, the Fishers Island Library Board approached me with a straightforward question, "How can we best support our island's young people during these unprecedented times?" It readily became clear that the Library could help fill a technology access gap that was making learning and social interactions difficult for some of our children.
With support from a generous grant from the Jeanann Gray Dunlap Foundation, the Library agreed to donate new laptops to students who did not have one to use in their homes. The Fishers Island School provides a computer to each student during the day, but they are stored at school to increase the devices' longevity. For some students, this means needing to share devices with other family members for homework and much-needed social interaction with peers.
Interested students filled out a one-question application for the computer grant.  The application asked, "How will owning your laptop enhance your education?". Students responded with ways in which a new laptop would help them academically and socially. One student said, "Owning my personal computer will provide more time to do homework and school projects at home. The world, including Fishers Island School, is using technology more frequently, limiting paper homework. In an out-of-school setting, a computer could be useful for socialization. All people need socialization, and with COVID-19, it's been harder than ever to communicate with people."
After reviewing the applications, the Library agreed to donate laptops to all seven students that applied. Students were given the computers at school, and could not contain their joy and gratitude. One student wrote in a thank you note, "I can't even put into words how grateful I am that you have presented me with this device. It has been so beneficial to me so far both school-wise and socially; it has made things a lot easier."
The mission of the Fishers Island Library is to encourage a love of reading, storytelling, and learning by providing free year-round access to its collection, programs, and technology in a traditional, friendly, and charming setting for islanders of all ages. Our little library has once again lived up to its mission and continues to support a love of learning and literacy for all of our island's residents.