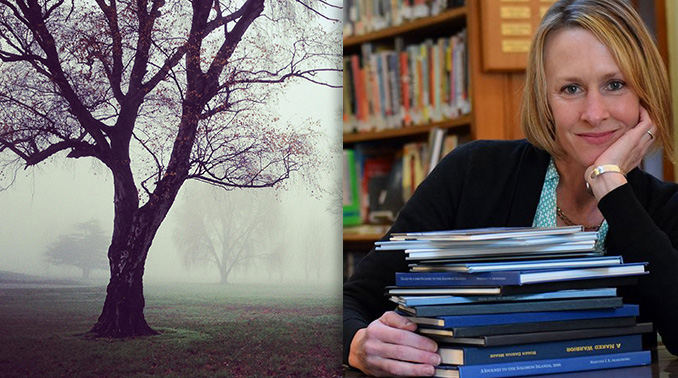 THE LEAFY TREE: Preserving Life and Family Stories 3 Day Writing Workshop
Join us at the Library Friday, Saturday & Sunday,  JULY 28, 29, 30 from 9:00-12:00 each day
THE LEAFY TREE: Preserving Life and Family Stories, A Writing Workshop with historian Sarah Merrill
Whether or not you believe that your life or family history makes for an interesting story, what you manage to record becomes an irreplaceable gift for your family and for future generations. Your personal narrative can also enrich the historical records of your communities.
Overwhelmed by the enormity of the task? Concerned about a lack of writing talent? The truth is, despite a general desire, most people never get around to completing a memoir project.
THE WORKSHOP: This writing workshop, enjoyable and inspiring for writers of all levels, is designed to provide inspiration and practical tips to get your project off the ground. Or if you have already begun, to keep those wheels turning. The instructor will provide many prompts, answer questions, and stimulate discussion. She will provide ideas about different ways to frame your memoir project so that it doesn't feel so overwhelming.
WE WILL WRITE! Participants should come to each session prepared to write. Discussion will be significant and sharing of work, while not required, will be encouraged.
MATERIALS: Participants should bring to the workshop each week a laptop computer OR a lined writing notebook and a favored writing implement.
THE WORKSHOP FACILITATOR: Sarah J. Merrill of Merrill Memoirs www.memoirsbymerrill.com Sarah studied Literature and Writing at Middlebury College (class of 1996) and has done graduate work in oral history and narrative non-fiction. Before becoming a fulltime personal historian, she worked for 15 years as journalist and an editor. With her company, Merrill Memoirs, Sarah assists individuals and families in recording and writing their memoirs and/or family histories and preserving them in beautiful books. She has completed dozens of books with clients all over the country. She has led many memoir-writing workshops. A member of the Association of Personal Historians, she is the programming director of the New England chapter of this group.
Though registration is not required, we would like to get a rough count. Kindly email, text, or call Amy if you plan to come to the workshop. You can also tell Ann at the library!
[email protected] / 812.483.3464